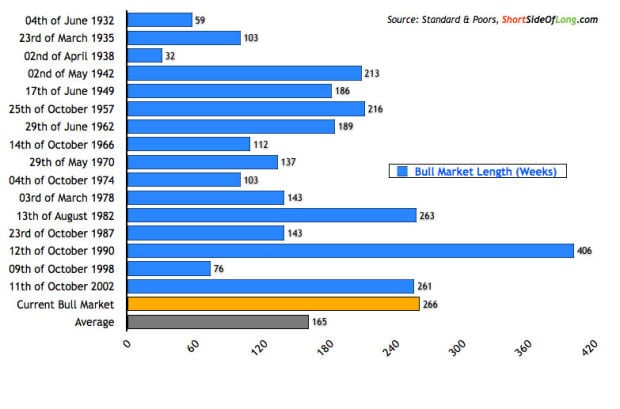 Last week, I answered your question, "Is the S&P 500 making a market top?" and suggested questions to ask before buying or selling any security. Today, I will answer your questions concerning the length of our current bull market and compare it with others since 1932.
Per the chart from shortsideoflong.com website, one can see our current bull market is now the second longest in the last 80 years. In March, this current bull market edged out the famous 1982-87 and 2002-2007 bull markets in terms of length. Does this mean we should hit the sell button on everything Monday morning? Absolutely not. This bull market could run for years to come.
Longer-term bull markets, do not generally end with a whimper but rather serious downturns. Wall Street does not publish these statistics, since they make their money on the amount they manage, but these are stats every investor should be aware of. These statistics will definitely get your attention.
1920s bull market lasted 8 years and crashed by almost 90 percent
1980s bull market lasted 5 years and crashed by 40 percent
1990s bull market lasted almost 8 years and eventually crashed by 50 percent
2000s bull market lasted 5 years and crashed by 50 percent
No one has the ability to know how much further the current bull market will last or how much it will drop and correct when the run is over. I have always found, the harder it runs-the harder it will fall. One thing for sure, the closer we are to retirement the more important it is to not lose our hard earned retirement dollars.
What should investors do to protect these "nest eggs?" Learn how to protect your portfolio for when the market takes a downturn. Take the time to learn which technical indicators give the best signals for buying and selling for each of your securities. Know which indicators gave accurate sell signals in 2000 and 2008 and be prepared for when they show up in the future. It is not a question of if, but when. Will you be prepared?
Plan your work, work your plan and share your harvest!
https://davidoengland.com/wp-content/uploads/2015/10/doe_logo_trans-with-tagline2015.png
0
0
David O. England
https://davidoengland.com/wp-content/uploads/2015/10/doe_logo_trans-with-tagline2015.png
David O. England
2014-04-27 01:00:00
2014-05-22 19:57:09
Eye on the Market: Cut and run? Part III